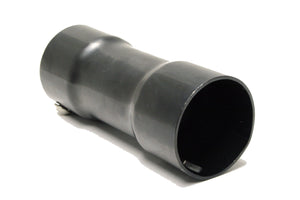 A Slightly Baffling Experience
Big City Thunder Generation II Thunder Monsters
Price: $89.95
704-847-1222
Reviewed by Michael Mihalevich
I'm a straight pipe kinda guy, but recently I've been slightly baffled. In a previous Partz section of Thunder Press, a product from Big City Thunder called a "Thunder Monster" claimed to increase power by up to 12 more horsepower than a straight pipe exhaust. Definitely piqued my interest!When I contacted Big City Thunder, I got to talk to Jim Maybeck, the former owner/driver of a Class AA Funny Car called the "Screaming Eagle" (way before Harley's Screamin' Eagle Performance parts). Jim was consistently blowing away the competition in the late 60's and early 70's with his 6 second, 240 mph runs down the quarter mile. During the past year, Jim has been putting his drag racing experience behind a new product called a "Thunder Monster." In a very brief period of time during our initial conversation, Jim managed to thoroughly overwhelm me with the intricate technicalities of exhaust dynamics. So now I am not totally clueless when it comes to sonic pulses, gas velocity, back pressure reverses, scavenging, valve overlap, jetting, triple, carburetion, performance... OK, I take it back, I'm totally clueless about engine exhaust dynamics. Nonetheless, Jim agreed to send me a set of Thunder Monsters to try out, but he wanted to wait until he was able to produce the newer Generation II Thunder Monsters.
By the time my new Generation II Thunder Monsters had arrived, I had checked out the information on the Internet (www.bigcitythunder.com) and talked to Maybeck a couple of times. Somewhere amongst all the propaganda I recalled that these Thunder Monsters could be installed in less than five minutes. Who better to test that hypothesis than a non-mechanically inclined person such as myself? So when I got my Allen wrench and Locktite, I had my son time my installation from start to finish -- 2 minutes 23 seconds! I may have had a slight advantage since my Vance & Hines Straightshots exhaust had no baffles, but had the hole for the screw that holds the baffles in place.
I probably need to let you know that my Harley is not your typical harley. When I got my 2000 Wide Glide, I had Mike Wilson, co-owner of Gail's Harley-Davidson in Belton, Missouri, install what he calls a "Thrasher Kit." Mike's "Thrasher Kit" includes new heads, cams, pistons, cylinders, ignition, drive gear, cam bearings, Mikuni carb, air breather and push rods -- not your stock Harley. After Wilson built the engine and I did the break-in miles, he dyno'd it and it cranked out 100.9 foot-pounds of torque and 105.2 horsepower. At 3300 rpm there was a dip of about 12 foot-pounds of torque and a dip of about 7 horsepower. That's the straight pipe "midrange flat spot" mentioned in the Big City Thunder website.
I've had my Wide Glide about two and a half years and put more than 63,000 miles on the enngine. After I installed the Generation II Thunder Monsters, Mike dyno'd my bike again. This time the results were 103.6 foot-pounds of torque and 103.5 horsepower, but with no dips in the torque or the horsepower. So if you look at the dyno graph at just 3300 rpm, I actually gained 15 horsepower from 37 to 52). But remember, that change in torque and horsepower was only at 3300 rpm where the flat spot dip was.
Maybeck defines the "midrange" for street rideability to be between 2500 and 5500 rpm. For a quick comparison, let me tell you the differences from my unbaffled straight pipes versus the Thunder Monster at 3000, 4000 and 5000 rpm. First off, straight pipe torque was 72, 83 and 100. Thunder Monster torque was 80, 99 and 102. (Differences of +8, +16 and +2 foot-pounds of torque.) Straight pipe horsepower was 41, 63 and 95. Thunder Monster horsepower was 46, 76 and 97. (Differences of +5, +13 and +2 horsepower.) For my particular motor, the major differences are found between 3300 and 4000 rpm. Do I ride in that range? Probably more than the average rider. Anyone who knows my riding style would probably call it "aggressive." Can I tell a difference with a Thunder Monster in my straight pipe? You better believe it! Especially no more flat spot in the throttle! Now you know why I'm slightly baffled -- I'm running Big City Thunder Generation II Thunder Monsters in my Vance & Hines Straightshots! Oh yeah, thay also have a slightly deeper, richer tone than a straight pipe.
Would a Big City Thunder Thunder Monster be good for you? Only you know the answer to that. But once you change to the K&N air breather, and the Vance & Hines exhaust, the Thunder Monster at $89.95 will be your least expensive speed equipment to bolt on. And if there is one thing I have found out, it's that Jim Maybeck is passionate about customer satisfaction. Check 'em out at www.bigcitythunder.com or call 'em at 704.366.8672 or 704.364.7243.
This article appeared in the Northern and Western Edition of Thunder Press in September 2003 and the Southern Edition October 2003.
---