How to choose your baffle
The most accurate way to determine which baffle best fits your exhaust, is to measure the inside diameter of your headpipes about 6 inches from the outlet.
Once you know the size you need, select if you want them in the original or quiet version.
Happy Riding!!
We Want Your Feedback!
Please join our email list so we can send you a link to our survey about your purchase. We may send occasional notices of special deals down the road, but you can unsubscribe any time.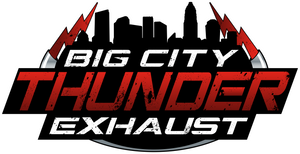 Welcome to Big City Thunder!
- Don't be baffled about sound and power, Big City Thunder delivers both!!
- If you are looking for a more aggressive, throaty sound we can help, with our Original Thunder Monster baffles.
- If you are trying to tone things down, but not kill the sound we have you covered with our Quiet Thunder Monster baffles.
- If you have a flat spot or hesitation with your carbureted bike we have an answer.
- If you have decel popping on your fuel injected bike we can help.
"We not only produce baffles that perform but also deliver a true Hot Rod rumble."
Big City Thunder – real world performance. Real people with real answers. Try Us Today.
Customer Photos
Anthony Birckbichler
Cleburne, TX
2018 HD Fat Bob
Christopher DeCou
Kitty Hawk, NC
2014 HD Streetglide Special
Christopher Cianci
Cranston, RI
2008 Victory Hammer